Attorney Bio
Carlos J. Vidal-Collazo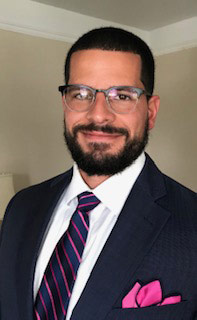 ---
The background of Attorney Carlos J. Vidal-Collazo begins in Ohio, U.S.A. where he was born to Puerto Rican parents. His family decided to return to Puerto Rico, where Attorney Vidal completed elementary, middle, and high school. Upon graduation, Attorney Vidal was offered an academic scholarship to attend the University of Florida, where he earned a Bachelor's Degree in Anthropology with minors in Criminology and Environmental Studies. Attorney Vidal was then offered early admission and a scholarship to attend the School of Law at the University of Puerto Rico, where he earned the Degree of Juris Doctor. His major interests were immigration and criminal law.
After graduating law school, Attorney Carlos J. Vidal-Collazo was admitted to the Florida Bar. Attorney Vidal worked as a prosecutor with the Office of the State Attorney of the 7th Judicial Circuit for over five years. Throughout his tenure as an Assistant State Attorney, Attorney Vidal was assigned to prosecute criminal cases in the DeLand Courthouse. Attorney Vidal was a prosecutor in juvenile, misdemeanor, and felony cases. As a lawyer for the State, Attorney Vidal negotiated both minor and serious cases, litigated a vast variety of legal and evidence issues, and participated in numerous trials on a broad range of cases, from Selling Fish Without a License, to D.U.I., to 2nd Degree Murder With a Firearm.
Being charged with a crime is a serious situation that calls for the assistance of experienced defense counsel. Attorney Carlos J. Vidal-Collazo now employs his knowledge and skills as a lawyer to protect the interests of adults and children that have been arrested or accused of a criminal offense. With an office in DeLand, Attorney Vidal fights criminal allegations in Volusia County and its surrounding areas.
Attorney Carlos J. Video-Collazo has always taken pride in being a straightforward, honest, and fair lawyer with an outstanding work ethic. He is known as a respectful lawyer that always battles for what is right.
Attorney Carlos J. Vidal-Collazo is fully bilingual in English and Spanish which makes him uniquely qualified to assist Spanish speaking clients with all criminal matters the firm handles. Contact Attorney Vidal to see how he can help you.